For a device billed as the "Multi-tool Device for Hackers", the Flipper Zero already offers a considerable list of onboard capabilities. But some tough decisions had to be made to lower the retail price, so features like WiFi and Bluetooth had to be left out. Fortunately, there is an expansion interface along the top of the device that allows you to plug in additional hardware.
One of these expansions is the "Mayhem Hat" by (Erwin Ried). This board adds many required features to Flipper Zero, as well as some that may not seem so obvious. The addition of ESP32-CAM brings WiFi and Bluetooth to the party, while also unlocking access to the very capable ESP32Marauder firmware and the plethora of security research tools within.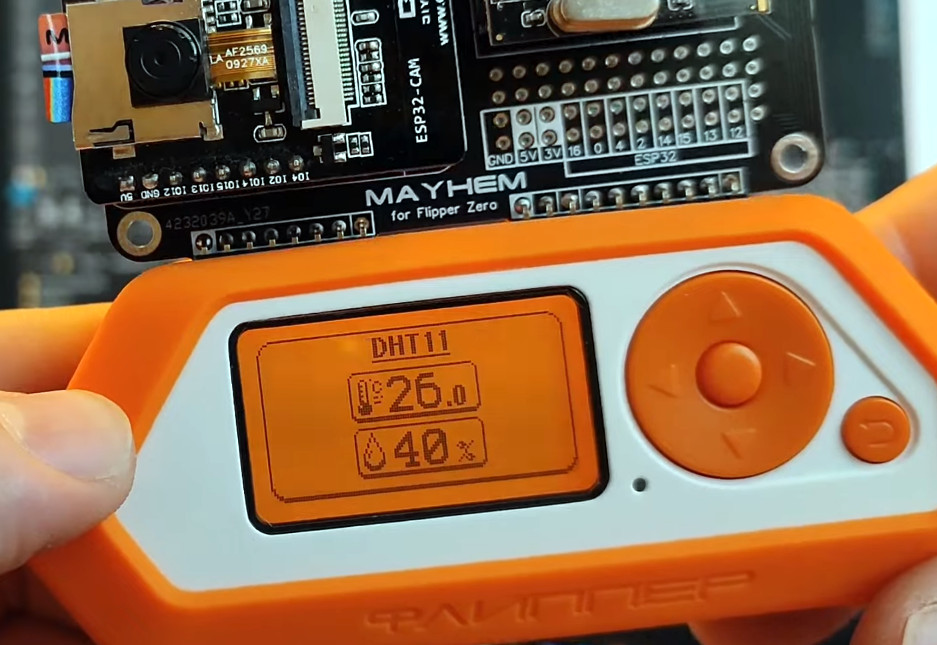 But the camera also enables some interesting features, such as motion detection and the ability to read QR codes. It even lets you use the Flipper as an impromptu digital camera, complete with an on-screen viewfinder reminiscent of the Game Boy Camera.
In addition, the Mayhem Hat has its own expansion capabilities. There is room to plug in either a CC1101 or an NRF24l01 radio module, both of which are supported by community plugins that allow the user to sniff and intercept signals. There are also extra pins to connect your own sensors or hardware. In the demo video below you can see the device automatically detect the popular DHT11 environmental sensor and display the current temperatures and humidity.
(Erwin) has the Mayhem Hat for sale on Tindie, but as of this writing, is currently sold out. Apparently, demand for the add-on boards is as high as for the Flipper Zero itself – not a huge surprise, given the excitement we saw around this platform during its $4.8 million Kickstarter campaign.