LAS VEGAS – Uninjured again in Las Vegas.
No. 2 seed Arizona defeated top-seeded UCLA 61-59 on Saturday at T-Mobile Arena to win its second straight Pac-12 tournament championship. The Wildcats are 9-0 in Las Vegas under head coach Tommy Lloyd — 10-0 overall going back to 2020. Lloyd is the only coach in Pac-12 history to go 6-0 in the conference tournament.
Arizona also increased its total Pac-12 conference tournament championships to seven, and the Wildcats did so by avenging previous losses to UCLA, Arizona State and Stanford; a revenge tour, if you will.
As the Wildcats turn their attention to the NCAA Tournament, here are five takeaways from their championship weekend in Sin City:
1. The injury bug is hitting the Wildcats at an inopportune time
Arizona center Oumar Ballo will enter the NCAA tournament with a broken hand. Ballo, who was named to the All-Pac-12 Tournament team after averaging 17 points and eight rebounds in three games, revealed he broke his left hand during the Wildcats' semifinal win over Arizona State on Friday.
"I dunked the ball and felt a lot of pain in my arm," Ballo told the Star on Saturday in the Arizona locker room.
Ballo, the Pac-12's most improved player, played with red tape on his right hand because of a thumb injury he suffered in early February. Ballo played against UCLA on Saturday with a black armband. Ballo told the Star on Saturday that he plans to play in the NCAA tournament.
"I'm fine," he said. "Just a crash but I'll be fine next week."
In a since-deleted tweet, Ballo posted a screenshot of an X-ray that showed an injury at the base of the ring finger on his left hand, with the caption: "He broke his hand yesterday against ASU and got a ring for it tonight."
Playing with both hands taped was a challenge for Ball, especially against the Bruins.
"Man, it's hard. Playing against UCLA, they pull away every time we touch the ball," Ballo said. "We just had to hold it high and avoid contact."
Arizona's other starter in guard Kerr Kriis enters March Madness with a right shoulder injury suffered in Thursday's win against Stanford.
"Everybody's screwed this time of year," Lloyd said. "This is the time of year. It is very, very, very difficult to play three games in three days. And I think that all of us coaches, if we had our players, would get together and find a way to relieve our players in these tournaments. In college basketball at the highest level, it's hard to have great depth anymore because there is so much parity. Asking six or seven guys or eight guys, whatever it is, to go play basketball at a high level three nights in a row is a lot, so I think you're going to see more and more teams around the country getting guys up there.
"So hopefully there's a way we can all come together and come together and figure out a way to minimize the impact on the players so the teams can be 100% closer to the tournament."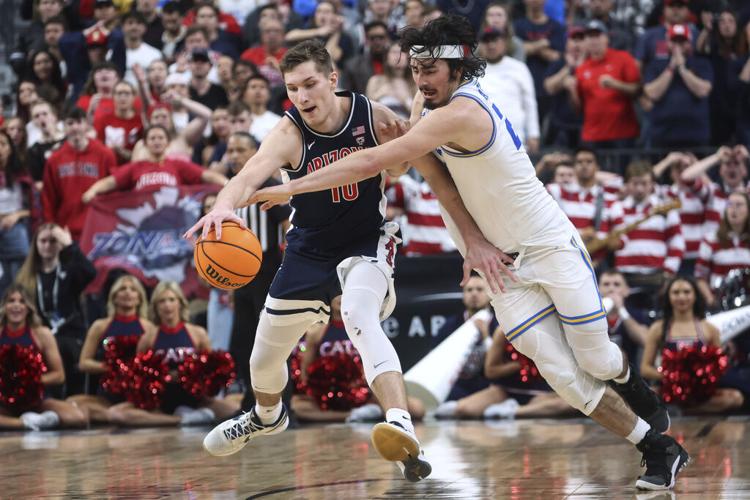 2. One team's loss is Arizona's gain
The Wildcats weren't the only team in the Pac-12 tournament dealing with injuries.
UCLA forward and Pac-12 Defensive Player of the Year Jaylen Clark is out for the season with a torn Achilles, and Bruins center and Pac-12 Freshman of the Year Adem Bona suffered a shoulder injury in Friday's win over Oregon. Bona, who was questionable for Saturday, was held up and donned a gray UCLA jumpsuit, keeping his left hand in the front pocket of his hoodie during the game.
UCLA forwards Mac Etienne and Kenneth Nwuba each fouled out and combined for three points and 10 rebounds in 33 minutes, leaving Bruins forward and Pac-12 Player of the Year Jaime Jaquez Jr., who is 6-7, defending 7-meter Ballo in the last minutes.
"We compete. Five on five," UCLA head coach Mick Cronin said. "We don't accept that someone was out so you should lose. We don't roll like that."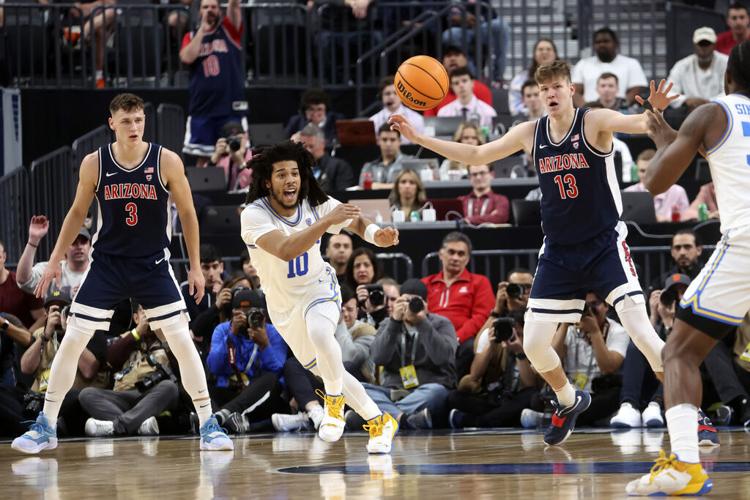 In the days leading up to the Pac-12 tournament, Lloyd was asked if he would consider expanding Arizona's bench beyond Pelle Larsson and 17-year-old point guard Kylan Boswell. Lloyd's response: "We'll go game by game. We'll see. … I think we have some guys ready to help if needed."
Arizona played its usual seven-man rotation in the first two games of the Pac-12 tournament, but used wing Adam Bala, who hit two 3-pointers in the Pac-12 tournament final against the Bruins last season, and freshman forward Henri Veesaar in the first half; they played five minutes together and added two rebounds.
Lloyd said the decision to install Bal and Veesaar was due to "foul issues and three games in three days," and the tightened rotation adds "a little more certainty to (Boswell and Larsson's) roles."
"I love Adama and Henri and they're going to be great players in Arizona, but unfortunately we can't get enough of them right now," Lloyd said.
"But I love our seven guys. I feel really good about our seven guys, about what we can do offensively, what we can do defensively, the variety we can play, the different lineups we can play. I think that's a pretty impressive seven guys."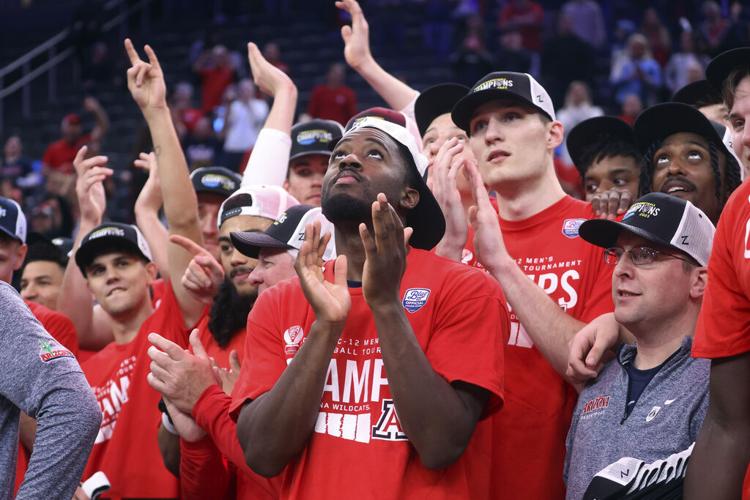 4. Wildcats 'built to play a lot of styles'
In some ways, the Pac-12 tournament was a microcosm of how the Wildcats have won a few games this season. On Thursday, Arizona scored 95 points on 64% shooting in a win against Stanford, the program's third-most points scored in a Pac-12 Tournament game. Then on Saturday, Arizona beat the Bruins in a game similar to the Wildcats' 58-52 rock-bashing victory over UCLA.
The Wildcats didn't score their first points until 16:27 into the first half, when Tubelis hit two free throws. Arizona managed to score its first field goal only after 14:56 left in the first half. Both teams started the contest by shooting a combined 1-for-13 from the field; The Wildcats and Bruins also shot 37% on Saturday. Although Arizona guard Courtney Ramey was 1-for-5 from 3-point range, one shot was the most important field goal for the Wildcats: a go-ahead 3 to give UA a 60-58 lead.
I kept telling myself the next shot was going to be in the game," Ramey said. "(Tubelis) found me and my job was to make the play. So I was grateful to get in."
Lloyd said "it's tough to get into an up-and-down game with UCLA, because they're perfectly comfortable walking the ball on the floor and dictating the tempo."
"And then they're so good on defense that it's hard for them to score quickly," Lloyd said.
Lloyd added that Arizona is "built to play a lot of styles," a trait that bodes well for Arizona heading into the NCAA Tournament.
"I think it says that we have a group that is built to play in this tournament that we're going to start with," Lloyd said. "There are no guarantees and you can't make any assumptions, but I like our ability to win game after game."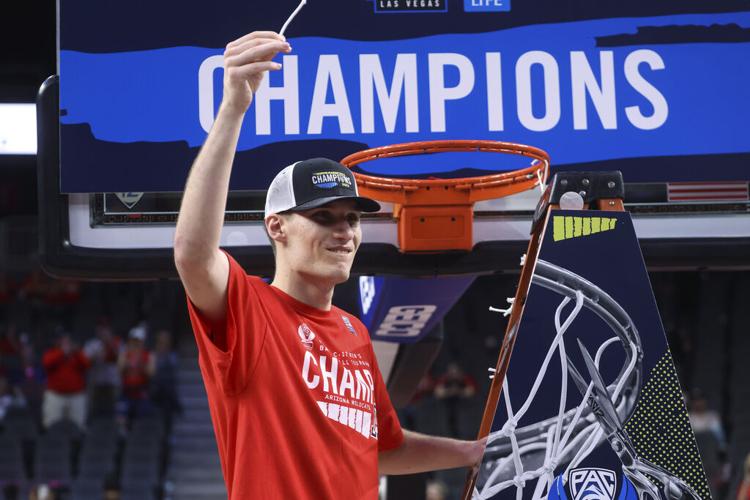 5. Learning from the last tour in March
It's officially beat or go home for Arizona.
If there's one thing the Wildcats learned from their Sweet 16 loss to Houston in Lloyd's first season at the helm last year, it's "rebound and physicality." The Cougars were out-hit by the Wildcats in the racket. Tubelis had just two points and shot 0-for-8 from the field with four turnovers and five rebounds.
"That game was so physical, man. It was tough and we learned," Ballo said. "I personally learned a lot from that. I have to be ready for that type of game; rebound the ball and match their physicality and just keep the energy up."
Added Ballo: "We were there last year, so we know what it feels like. We know the feeling of winning and losing. We have to do everything we can to keep winning."
Contact Sports Producer Justin Spears at jspears@tucson.com. On Twitter: @JustinESports